A Summer Shindig
July 8 @ 3:00 pm

-

July 11 @ 12:00 pm

£23.00 – £85.00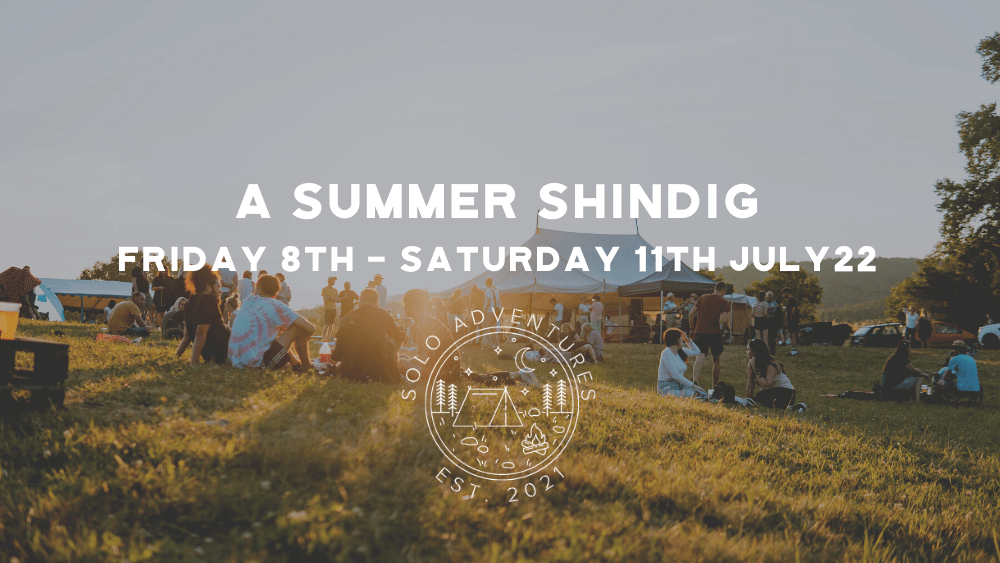 A Summer Shindig
We're hosting a Summer Shindig this July, and you're invited!
Join us for our first Annual campout event – A Summer Shindig, for what is set to be a fantastic, relaxing-yet-exciting weekend full of games, socialising, cocktails, explorations, prizes, treats, music and more! With a central, Yorkshire location on the outskirts of the Peak District, and a mere few miles from Sheffield, it's a great location for everyone across the country. With some exciting surprises yet to announce, this is going to be BRILLIANT!
WHAT'S ON OFFER:
Socialising – Get to know your fellow Adventurers and enjoy the social aspects of the Event!
Live music!
Fun and Games, including Board Games – Live action, Ticket to Ride, or maybe even Snap. We've got plenty of choices!
Scavenger Hunts – Follow the clues and find the hidden items in the quickest time to win.
Wild Swimming – With a ton of local swim spots, this was a popular Solo Adventure activity back in 2021 at this very spot.
Feasts – Eat well, together, around the Camp Fire! Think bubbling Raclette, sizzling chicken wings, and halloumi toasties!
Outdoor Pursuits – Including Orienteering, Rambling, Foraging and more.
Cookoff – Take on your competitors and prepare the BEST outdoor Camping treats, in which the winner takes the crown (and a prize)!
Cocktail Making – Mix the best cocktails and take some stunning photographs for the socials.
Wild Cooking – Learn to make Bread on a campfire, as well as the most amazing S'mores – the authentic American way!
More to be announced!
LOCATION:
A Summer Shindig will take place on a private Campsite just outside of Sheffield. We're privately hiring out the entire site, so we can thoroughly make the most of the weekend without the risk of noise complaints from other users of the site. Please note, this is taking place in a field on a working farm, so you'll need to have sturdy footwear.
The public transport links to the city centre of Sheffield are fantastic from up and down the country, and Taxis run to and from the site with ease. We also have a wonderful community in which plenty of our members will be happy to pick up people as they arrive, so there are a multitude of options for arrival and departure!
ACCOMMODATION & EQUIPMENT:
This is a camping event, so you'll need to bring your own tent and equipment. Here's a brief overview of the basics you'll need:
Tent
Bed / Mattress / Mat
Sleeping Bag
Blankets
Waterproof clothing
Suitable footwear
Drinking cup
Toiletries
Towel
You can also bring your own live-in vehicle to enjoy the weekend too. We also have the chance at some luxury accommodation, to be confirmed in due course.
There are Portaloos on site, along with a pot washing facility.
ITINERARY:
Friday: Arrive from 15:00. Pitch your tent and get to know each other! Drinks will lead into the first of three parties!
Saturday: Enjoy a day full of activities and outdoor pursuits, and relax into the evening with the Cocktail Making & Feast, followed by a party late into the night!
Sunday: A second day of activities, including Wild Swimming, a live Cookoff, Quiz, Feast, followed by – of course – another party!
Monday: Enjoy a social breakfast before packing up and leaving site by midday.
TICKETS:
Tickets will be available from the 11th January 2022. Each will admit 1 Adult (strictly no under 18's due to the nature of the Event) for the entire weekend (from Friday – Monday). The majority of activities are included in the ticket price, with any extras clearly identified closer to the event. For these, there will be a small, nominal fee to participate (though these will be in a minority, with the majority of activities being included and free of charge).
The Ticket price will cover all aspects of the creation and hosting of the Event, including the exclusive and private hire of the Campsite, lighting and sound equipment, marquees and other infrastructure and activities provided. Any remaining surplus at the end of the weekend will be put towards future events to ensure we can continue our Social gatherings throughout the year, some of which run at a loss.
It's worth noting that this is not just the hire of a field – it's a weekend of activities and fun with a great social circle. As some of the activities cost to host, this is reflected as such in the ticket price.