Heathers The Musical – Wednesday 28th July – 19:45
Solo Adventures are going to see Heathers The Musical in London!
Ideal seating for our group is the Gallery, as there are plenty of seats next to each other, and it's also only £20 per person, so nice and cheap whilst still retaining a great view. Please note: This is not front row stalls, and is towards the back of the theatre, but is a cheap enough option for our group.
If you wish to attend, please leave a comment below so that we can make sure we all book together. We need to be as quick as possible, however, to make sure there are enough seats for us all in the same area!
SEATING PLAN & BOOKING:
LINK TO BOOK -> https://www.todaytix.com/london/shows/23088-heathers/purchase
To ensure we all sit together, can we all book our tickets from the RIGHT hand side in the image, in the Gallery section, as close to the TOP RIGHT seat as possible (Row A, furthest on the right). That way, even if not all on the same row, we are in the same area and can turn around to talk etc (during the intermission, naturally). Let me know your seat numbers once booked so I can make a note of who is attending! Basically, any of the highlighted seats below!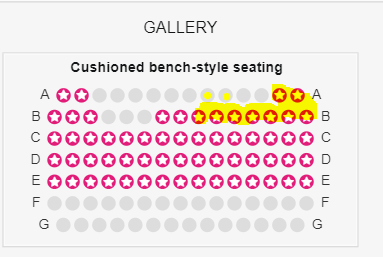 | | |
| --- | --- |
| Row A, Seats 5 & 6 | Thomas & +1 |
| Row A, Seats 3 & 4 | Jazz & Jaime |
| Row A, Seats 1 & 2 | Lil & Jess |
| Row B, Seat 7 | Ronny (FB) |
| Row B, Seat 4, 5 & 6 | Kylie, Sham & Lou |
| Row B, Seats 3 | Dan |
| Row B, Seats 1 & 2 | Mojo & Melissa |
| Row C, Seat 3 | Amby |
| Row C, Seat 2 | Claire |
| Row C, Seat 1 | Ilana banana |
| Row C – Seats 3-8 | AVAILABLE – BOOK THESE VIA LINK ABOVE |